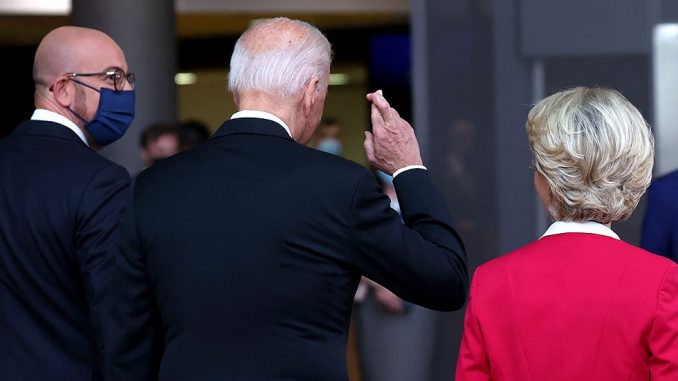 President Biden's newly unveiled deal to end a long-standing trade dispute with Europe marks his first major success in overturning former President Trump's trade legacy.
Trump left office having stirred up trade wars with U.S. allies and adversaries alike, imposing tariffs on hundreds of billions of dollars worth of imports.
Democrats and Republicans both criticized Trump's approach, calling for a more coordinated trade policy that worked in tandem with allies to pressure China.
Biden sought to highlight that shift when announcing the deal Tuesday.
"The U.S. and EU will work together in specific ways that reflect our high standards, including collaborating on inward and outbound investment and technology transfer," he said.
"It's a model we can build on for other challenges posed by China's economic model."
The deal, which ends a 17-year trade dispute over aircraft subsidies for Seattle-based Boeing and Europe-based Airbus, extends the suspension of billions in tariffs and retaliatory tariffs that Biden temporarily lifted in March.
Those tariffs will be suspended for another five years, while other import taxes linked to steel and aluminum tariffs Trump imposed remain in place.
Mary Lovely, senior fellow at the Peterson Institute for International Economics, said the move was a marked shift from Trump's "America First" trade policies.
"It is one, among many other signs, that the new administration is really doing all it can to warm relations with our allies, and I think that's very important," she said.
"Under President Trump, they were speaking different languages, to put it mildly. They saw different problems and different solutions. We were seeing the allies splitting off, and this is an important part of changing that dynamic."
Business groups that frequently bristled at Trump's trade policy expressed delight at the new approach.
Josh Bolten, president of the Business Roundtable, said he wanted to avoid drawing "invidious comparisons" but called it "a good development to have the U.S. constructively engaged with the European Union."
He urged the U.S. and EU to "together lead the world toward a more effective rules-based international trading system, particularly as the U.S. and Europe face the challenge of dealing with China."
On the campaign trail, candidate Biden frequently rebuked Trump for trade policies he said cleaved rifts with allies, piled expensive tariffs on American imports and invited retaliatory tariffs that hurt American exporters.
The International Association of Machinists and Aerospace Workers, a top aerospace labor union, praised the move Tuesday but warned the U.S. should be willing to go it alone if necessary to tackle trade issues with China.
"It is simply unacceptable for Boeing workers to have their jobs sacrificed to China and other countries like Mexico in the name of unfair global competition," said IAM District 751 President and Directing Business Representative Jon Holden.
"Coordination between the U.S. and the EU to confront China's trade challenges in aerospace is urgently needed. While today's announcement is a solid step forward, if the EU is not willing to join us, the U.S. should move ahead with its own challenges to China's unfair trade practices."
Sen. Sherrod Brown (D-Ohio) said Biden's differing approach to Trump's trade policies could be seen across a slew of other areas as well, especially in using tough new enforcement tools to hold Mexico to account for labor violations.
"We're moving toward a real trade policy that puts workers first," he said. "It's a very different time on trade."
Trump signed those enforcement mechanisms into law as part of the United States-Mexico-Canada Agreement, after Democrats insisted on beefing up the ones in the original deal he negotiated to update the North American Free Trade Agreement.
One of the key architects of the mechanisms — at that time, a top staffer for the House Ways and Means Committee — was Katherine Tai, whom Biden picked as U.S. trade representative and who negotiated the aircraft deal.
But House Ways and Means Committee Chairman Richard Neal (D-Mass.), while deriding Trump's policies as impulsive and overly-confrontational, gave Trump and his trade representative Robert Lighthizer credit for beginning a legacy of enforcement.
"One of the things that was clear after working with Bob Lighthizer for a long time, that they meant business on trade enforcement, and I think Joe Biden means business on trade enforcement."
Neal also noted that Trump's tariffs on steel, aluminum and a slew of Chinese imports were tougher to undo given their popularity among some constituencies.
"It's one of those oddities, you know. One of the things with tariffs, parts of the domestic economy benefits, and other parts are harmed," he said.
Lovely agreed, noting that unions for steel manufacturers — a major Biden constituency — opposed lifting the tariffs.
"I think we're seeing how difficult it is politically to roll back the tariffs Trump put in," she said.
Affected trade groups expressed disappointment Tuesday that Biden and the EU did not make progress on lifting steel and aluminum tariffs, which have led to significant countermeasures.
"We appreciate the Biden administration's work to reset relationships with our trade allies," said Chris Swonger, president and CEO of the Distilled Spirits Council.
"However, the EU and the U.K. continue to impose a 25 percent tariff on American Whiskeys as part of the steel and aluminum trade dispute, which has severely damaged what had been for many years a great American export success story," he continued.
"Until steps are taken to permanently remove these tariffs on American Whiskeys, the United States' largest spirits export category, will remain at a serious competitive disadvantage in our two most important export markets."
One stylistic shift from Trump that Tuesday's announcement highlighted was the consistency of Biden's approach.
Whereas Trump was famous for split-second decisions and what was viewed as a temperamental approach to policy, Biden and Tai have telegraphed their goals and principles — and moved to execute them — creating a more certain business environment.
"With the Trump administration, you had to check your Twitter in the morning to know what's happening," noted Lovely.
Via The Hill