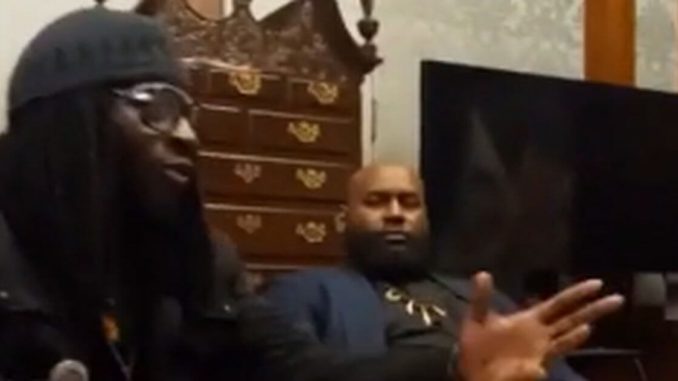 A Black Lives Matter leader in New York City, Hank Newsome, warned mayor-elect Eric Adams that there will be bloodshed, riots and fire if the city returns to the more aggressive style of policing that was in effect pre-De Blasio.
Via Fox News:
The head of Black Lives Matter of Greater New York met with Eric Adams, the city's mayor-elect, to discuss policing and warned that there will be "bloodshed" if the city returns to its pre-De Blasio model, according to a report.
Adams, himself a former police captain, on Wednesday met with Hawk Newsome, the BLM leader, and others behind closed doors at Brooklyn's Borough Hall, the New York Daily News reported.
The meeting was tense and turned into a shouting match, the paper reported. One of the key issues raised was the possibility that the city could reinstate its anti-crime unit, which Newsome compared to the Nazi Gestapo.
"If he thinks that they're going to go back to the old ways of policing, then we are going to take to the streets again. There will be riots, there will be fire and there will be bloodshed because we believe in defending our people," Newsome told the paper. He said that the group prays for peace but prepares "for the worst."
Adams' campaign and Newsome's group did not immediately respond to after-hours emails from Fox News. Chivona Newsome, a co-founder of the group and Hawk's sister, told the paper, "We will shut down City Hall, and we will give him hell and make it a nightmare."
The streets of New York City have gotten far more violent since De Blasio came into office and we have to hope that the incoming mayor will ignore the threats from Newsome and BLM and do what is right for the residents of his once great metropolis.
De Blasio's soft on crime and criminals approach has been a disaster for New York City and the mayor would become massively popular if he accomplishes nothing but making the city safer for residents and visitors.
If mayor-elect Adams succeeds in dramatically reducing crime in NYC there is no telling how bright his political future could be.