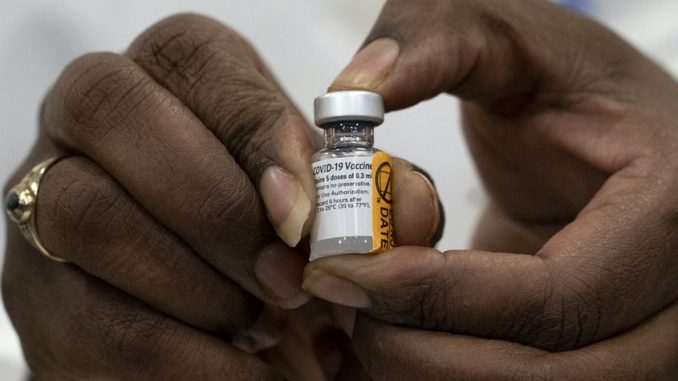 The first case of the omicron variant of COVID-19 in Texas was confirmed on Monday night. Harris County Judge Lina Hidalgo confirmed the news. A forty-something-year-old woman who is vaccinated and has not traveled recently tested positive for the omicron variant.
NEW: A woman in her 40s from NW Harris County with no recent travel history has tested positive for the Omicron variant of COVID-19. The best way to protect ourselves and our community from this virus is to get vaccinated & boosted. Get your shot ➡️ https://t.co/qS98pi06fL

— Lina Hidalgo (@LinaHidalgoTX) December 7, 2021
The Texas Department of State Health Services released a statement. The department and Harris County Public Health are investigating. The statement includes a reminder that vaccination remains the best way to avoid serious illness and death from the coronavirus.
"It's normal for viruses to mutate, and given how quickly Omicron spread in southern Africa, we're not surprised that it showed up here," said Dr. John Hellerstedt, DSHS commissioner. "Getting vaccinated and continuing to use prevention strategies, including wearing a mask when you are around people you don't live with, social distancing, handwashing and getting tested when you have symptoms, will help slow the spread of the virus and help end the pandemic."

The B.1.1.529 variant was identified in South Africa last month and appears to spread more easily from person to person than most strains of the coronavirus. Currently, it is unclear if the Omicron variant is associated with more severe disease. Studies have commenced to determine how effective vaccines are expected to be against infection. However, vaccination is expected to continue to offer protection against hospitalization and death. Omicron is thought to be responsible for a small proportion of the current COVID-19 cases in Texas and the United States.
The fact that the woman had no recent travel history is one clue that the omicron variant is already prevalent in Harris County (Houston) and spreading. Also on Monday, health officials announced that the city's wastewater is being tested and Houston Health Authority is working with Houston Methodist's sequencing lab.
In a Monday interview before the virus was identified in Harris County, Houston Health Authority David Persse said HHD was testing the city's wastewater and working with Houston Methodist's sequencing lab in order to quickly identify the variant.

"The one thing that the coronavirus, all the variants have taught us from the beginning, is that it has put us behind the curve because so many people who are infected have minimal symptoms or no symptoms at all," he said. "So I will make the assumption that it is either here already or that it will be here very soon."
By Tuesday, Persse reported that the omicron variant was found in eight of 39 wastewater treatment plant samples. Connecting the dots between the first case reported, no travel history involved, and several wastewater treatment plants testing positive with the variant indicates it is prevalent and spreading through the community. Next, he anticipates that hospitalizations for COVID will increase.
And that means we'll likely start to see an increase in hospitalizations soon, according to Houston Health Authority Dr. David Persse.

"We've seen a little bit of an uptick in the total amount of virus in the wastewater, so that would suggest to us that in about two weeks, we're probably going to start seeing more hospitalizations for patients with COVID," he said.
There isn't a lot known about the omicron variant yet but given the fact that it is known to spread quickly, it is not a surprise it has been found in Houston, said Dr. John Hellerstedt, DSHS commissioner. Echoing the others, Hellerstedt also reminded people to get vaccinated. "Everyone 5 years and older is eligible for vaccination," Hellerstedt said. "Everyone 18 years and older should get a booster shot when they are eligible."
The encouraging news is that omicron doesn't seem to make people as sick as delta did and there are not as many people requiring hospitalization. Persse said that eventually COVID-19 variants will be less a major part of our lives. Waves of infections will become milder and the virus will fade like other infectious diseases. It may take one or two or three years or more to happen but we will reach that point.
Dr. Peter Hotez, Houston's Eeyore of the coronavirus pandemic and critic of anti-vaxxers, said it is hard to imagine that the omicron variant will overtake delta in Texas. "Delta's been the king of all variants. In terms of transmissibility, it's hard to imagine how something could overtake it." Omicron is second in concern to the delta variant. He is more concerned about the next wave of the delta variant.
"I mean, what could be worse than the fact that we've had 20,000 unvaccinated Texans since June 1 needlessly lose their lives out of vaccine defiance and refusal?" Hotez said. "When I think about things that keep me up at night, it's the next wave of the delta variant. So I think that's one to keep things in perspective. We've done a terrible job vaccinating the state of Texas."
This is consistent with previous statements from Hotez. Last week he said that omicron sounds nasty but delta remains the true villain. To date, delta affects the unvaccinated population hardest.
Delta is still pretty aggressive and may be around a while. We might have a twin epidemic with delta and omicron. In the past, we had the original, then alpha was dominant, then delta. This one might be a foot race between the two.

One possibility I've been talking about based on characteristics: We might see each variant disproportionately affect different populations. Delta might continue to affect the entirely unvaccinated, while omicron might have a different advantage in escaping the antibodies. It could reinfect those who have been infected but are not yet vaccinated. Or disproportionately affect the partially vaccinated. I think the message, though, is no matter what, the course of action is the same. Get the maximum. If you haven't been vaccinated, get vaccinated. If you got two doses, get the third. If you've been infected and recovered, but weren't vaccinated, get vaccinated on top of that. Vaccinate your kids. If you don't, you're asking for trouble.
The message is the same from all the health and science officials – get vaccinated. So far, 60% of the American population is vaccinated, about half of Texans are vaccinated. It's still a personal choice and with that choice comes risks. For the latest variant, omicron, Hotez recommends showing concern but not panic. By the time variants are reported, they are already here.
Via        Hot Air