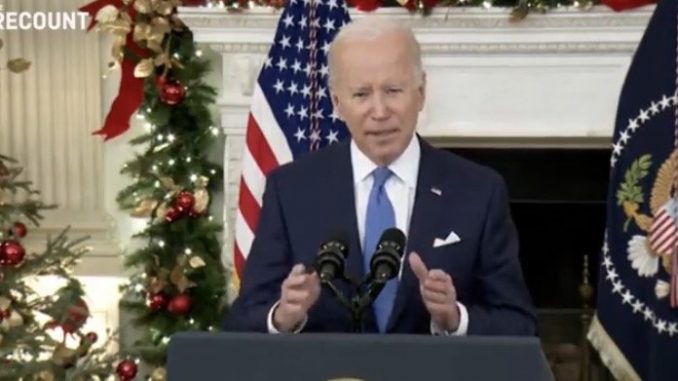 Joe Biden on Tuesday delivered remarks on the Omicron variant from the White House.
Biden announced the federal government will be sending out free Covid tests to anyone who requests one.
Dementia Joe had another one of his signature outbursts and accused conservative media personalities of killing people by peddling lies about Covid vaccines.
"Look, the unvaccinated are responsible for their own choices," Biden said. "But those choices have been fueled by dangerous misinformation on cable tv and social media. These companies and personalities are making money by peddling lies and allowing misinformation that can kill their own customers and their own supporters."
Biden scolded Americans: "It's wrong! It's immoral! I call on the purveyors of these lies and misinformation to stop it! Stop it now!"
VIDEO:
President Biden calls out "dangerous misinformation" on COVID frrom "cable TV and social media."

"These companies and personalities are making money by peddling lies and allowing misinformation that can kill their own customers and their own supporters … Stop it. Stop it now." pic.twitter.com/pWH82R9HjV

— The Recount (@therecount) December 21, 2021