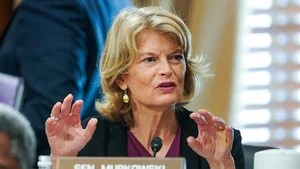 Sen. Lisa Murkowski (R-Alaska) on Sunday said "it can be uncomfortable" to not align with her own political party during a discussion about the Republican National Committee's resolution characterizing the Capitol riot as "legitimate political discourse."
During an appearance on CNN's "State of the Union," co-anchor Jake Tapper asked Murkowski about the RNC's resolution censuring GOP Reps. Liz Cheney (Wyo.) and Adam Kinzinger (Ill.) for participating in the congressional investigation into the Jan. 6, 2021, attack on the Capitol. The resolution characterized the Capitol riot as "legitimate political discourse."
Asked by Tapper on Sunday if it is "uncomfortable to be a non-rigidly partisan person during this period," Murkowski said "during this period, yes."
"It can be uncomfortable when you say I'm not going to align myself neatly with what the party is saying just because the party is saying. You've got to be comfortable enough in who you are and who you represent and why you're here," Murkowski said.
"I'm not here to be the representative of the Republican Party. I'm here to be the representative for Alaskan people. And I take that charge very, very seriously," she added.
She said under that pretense she believes it is her responsibility to "just speak the truth" as an Alaskan senator "when there is a conflict — when the party is taking an approach or saying things that I think are just absolutely wrong."
"The easier thing to do is just go along to get along," Murkowski said.
"Or just keep your mouth shut. But you know what, that's not why we're here. We're here to do some hard things, and sometimes the hard things are to say I want to get something done rather than just follow the messaging from our respective parties. Let's try to get something done," she added.
Murkowski on Saturday wrote on Twitter "We cannot deny the truth—to suggest it was 'legitimate political discourse' is just wrong."
Murkowski, who is currently running for her fourth full term, has frequently broken from the GOP during her tenure in office, notably voting to convict former President Trump during his second impeachment trial on a charge of inciting an insurrection.
During a separate part of Sunday's interview, focused on the bipartisan infrastructure bill that passed in November, Murkowski said "sometimes when the going gets tough, we just say that's too hard, and we retreat to the party messages."
She noted, however, that the $1.2 trillion package passed because "I think there was a recognition that the country needed something — the country needed a step towards healing."
"I think sometimes when the going gets tough, we just say, 'that's too hard,' and we retreat to the party messages. But I think there was a recognition that… the country needed a step towards healing." – GOP Sen. Lisa Murkowski on the bipartisan infrastructure bill. #CNNSOTU pic.twitter.com/PwKjy168EU

— State of the Union (@CNNSotu) February 6, 2022
Via The Hill