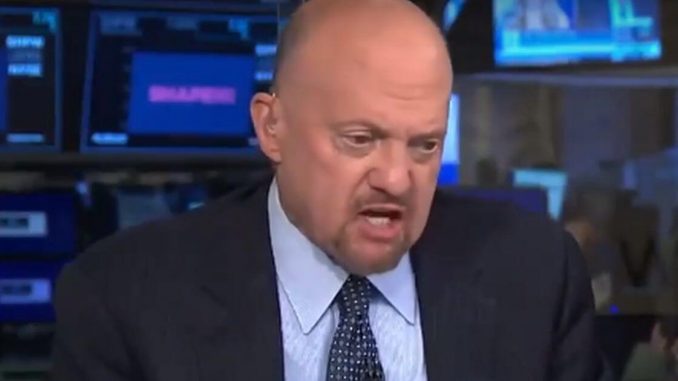 CNBC host and financial analyst Jim Kramer just spilled the beans on inflation saying "it's much worse than we thought."
Inflation is the scourge of the poor and the middle class and it seems like the Biden administration is doing everything it can to not only hurt the poor but to create more poor people.
Prices are seemingly rising so fast it's hard to keep perspective. Going to the supermarket has become a game of "can I find it" and "can I afford it if I find it."
This is a game that will not end well, for anyone.
Here's more on what's happening with inflation in our economy, from our partners at the Western Journal:
Procter & Gamble, for example, announced that many of its prices will rise in the coming weeks since the cost of raw materials remains high, according to the Post. The company owns huge brands like Tide, Gillette and Crest.
"We do not anticipate any easing of costs," P&G chief financial officer Andre Schulten said. "We continue to see increases week after week, though at a slower pace."
The Post cited an interview Schulten gave to The Wall Street Journal, though the WSJ appears to have removed that specific quote.
And this is not P&G's first announcement of a price hike. Back in April, the company warned that many paper products would begin costing more, including essentials such as tampons, diapers and paper towels.
And other corporate giants such as Coca-Cola, PepsiCo and General Mills have warned buyers throughout the year that costs will keep going up, according to CNBC.
These costs keep climbing in the aftermath of the economic disruption of COVID-19, and now everyone is suffering from inflation.
The Wall Street Journal reported that U.S. inflation has reached the highest level seen in a decade.
This comes from the jump in the cost of the most basic materials that every producer needs. Lumber costs skyrocketed this spring, and wheat, copper, oil, corn, wood-pulp and other such essential raw materials have seen big surges in prices after last year's COVID-19 economic crashes.
And with the price of materials rising, it's only natural that corporate prices are going to follow suit. For instance, The Wall Street Journal reported that P&G is expecting to spend $2.1 billion more on transportation and raw materials. And though P&G's shares have risen 2 percent, other giants like Unilever, Colgate-Palmolive and Kimberly-Clark have watched their shares fall 7 percent or more.